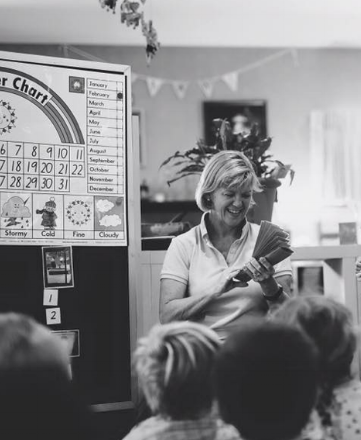 Leading Early Childhood Educator
Jane is peer recognised as one of Australia's best early childhood educators. She has won numerous awards and has also lectured in early childhood practices. She recently returned from an international study tour to Italy where she focused on exploring the child-centred and experiential learning of the the Reggio Emilia Project.
"I believe I have a great responsibility towards children to facilitate as many opportunities as possible for them to explore and challenge their own thoughts, ideas, skills and potential in a nurturing, stimulating and beautiful environment which will help lead them towards understanding their own worth, uniqueness and potential to enjoy a happy, personally fulfilling life"
Children's Librarian
Susan's career in public libraries spanned 25 years. The best role of all in that time was as a Children's Librarian, where she both chose resources for libraries' children's collections and developed rhyme and storytime sessions for babies and preschoolers. That love of literature for young and very young children continues to be indulged with the arrival of two grand-daughters. Susan believes that books, rhymes and songs play a key role in children's early development and she loves sharing that passion through the Best Play Box.
"When I say to a parent, 'read to a child', I don't want it to sound like medicine. I want it to sound like chocolate" ~ Mem Fox
Clinical Psychologist
Dr Hawke completed her Doctor of Philosophy in Clinical Psychology at The Australian National University in Canberra, specialising in peer relationships. She has worked with children, adolescents and their families in numerous settings in both the ACT and NSW, including at some of Australia's most prestigious schools. Dr Hawke's focus is helping young people to achieve academic success, psychological health, and social and emotional well-being. She has a strong interest in attachment and works with families to understand the Circle of Security.